Unfortunately tickets for Jools Holland are not currently available.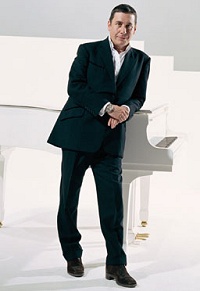 Jools Holland tickets can be purchased online through our secure booking system.
Jools Holland needs little introduction. More than a million people have paid to see Jools and his Rhythm & Blues Orchestra in the past ten years and he is the most popular pianist and bandleader in the UK.

Jools Holland and his Rhythm & Blues Orchestra are sure to get you in the mood for a night of boogie-woogie. They will be bringing the sensational sounds of piano, percussion and stunning vocals to Audley End House on Saturday 18th July and to Kenwood House on Saturday 15th August as part of English Heritage's Summer Picnic Concerts series.

Jools will also be playing at the Victoria Hall in Stoke-on-Trent on Saturday 7th November as part of his 2009 Autumn tour. Special guests include Ruby Turner, Rico Rodriguez and Louise Marshall.